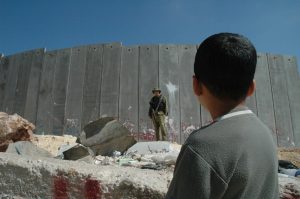 Justin C McIntosh has given his permission for his photograph above to be used for the cover of a long Turkish poem by Cahit Koytak, now published as a book with an English translation alongside. I am proud to have been one of the translators.
The original Turkish poem is called Gazze Risalesi.  In English we have made that title Despatches to my Gazan Son – which is not a translation as such, but which feels true to, and respectful of, the spirit of the poem. We are all content with it.
The book's publishers are the Yunus Emre Institute, which is the Turkish equivalent of the British Council. My Turkish friend Mevlut Ceylan translated the original poem into English and then handed his text over to me, so that I could turn it into mother-tongue English. Cahit Koytak's own family also helped me.
I felt hugely privileged to have been given this task. Cahit Koytak is a distinguished poet in Turkey and I believe that this long poem of his is a great and international one. And I am proud of the result of my labours, and the printed book itself is of good quality, more cloth-bound than paperback, carefully and tastefully done.
Despatches to my Gazan Son is an extended lament on behalf of the Palestinians in Gaza. Cahit Koytak addresses himself to Yusuf, a fictional Palestinian boy. Then he turns to Joseph, a fictional Israeli young man. He grieves and condemns and beseeches, sounding like the father of both of them, sounding also rather like an Old Testament prophet, with his voice of passionate, timeless authority.
The book came out just before Christmas 2016. I am still unclear what plans there are for its launch, promotion and distribution. These are unsettled times. I yearn for the chance to read it with Cahit – or at least excerpts from it. In the meantime, here is his voice reading the Turkish original, along with pictures of the children of Gaza.  And here am I reading the English version, my voice accompanied by those same pictures.
Gazze Risalesi has also been translated into Arabic and I understand that this version too is available from the Yunus Emre Institute.