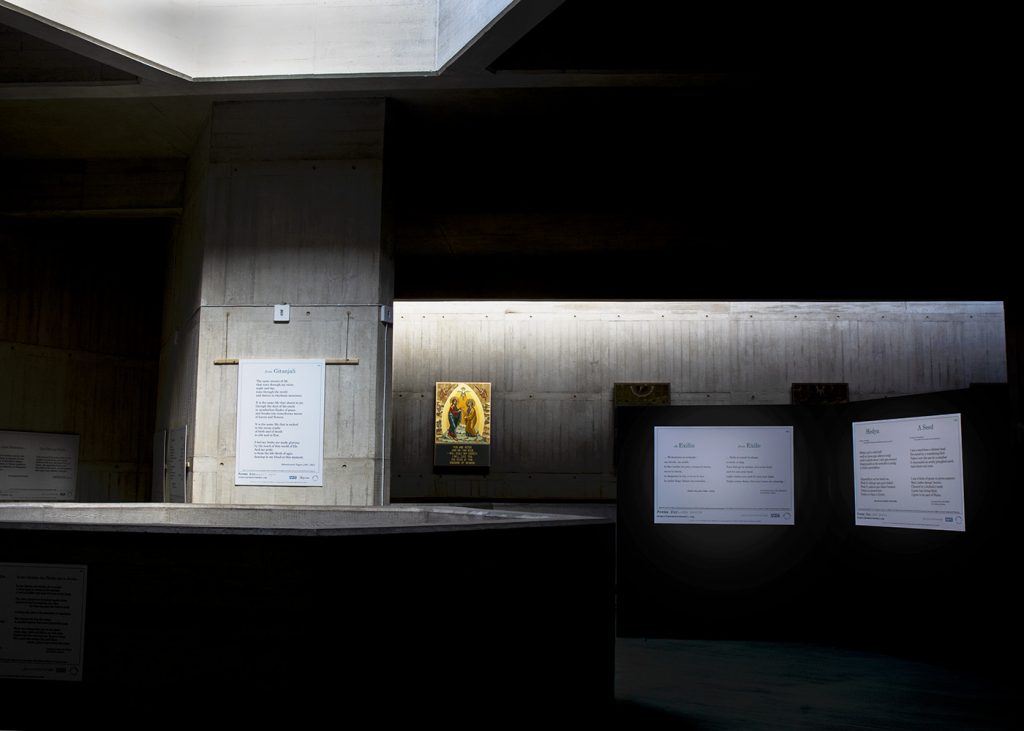 I'm uploading below a set of photographs of an exhibition I organised a few months ago, in Clifton Cathedral, Bristol. The picture above is just one example. Several pictures show, as this does, how the exhibition looked in its setting. Several more show single poems close up, the words made somehow even stronger in their setting here, against the stark concrete walls.
It has taken me a while to find ways to upload so many pictures all at once, without busting the memory bank. It's now several months since the exhibition took place. But I feel justified in apparently harking back now. I believe that it said, and still says, something very topically relevant. And, through these images, it speaks to us with great power, urgency and beauty.
The exhibition taught me (I'm slow to learn) that words and what they mean cannot be isolated from context. The place or time in which they are read can also add to or detract from their power to reach through, to chime in with. Against the rough concrete surfaces of the cathedral, this place given over to expression and celebration of the sacred, I think the poems spoke with even greater strength than usually they do. Place and words spoke to and for each other. I shall keep looking for ways to publish the exhibition on the internet that will do it adequate justice.
"This is like a contemporary Book of Psalms", someone said, on first seeing the poems set out there.
Clifton Cathedral was built in the late 60's and early 70's. It is a striking and impressive building, austere, majestic and yet inclusive. The exhibition took place on a large balcony within the cathedral. As well as the bilingual poems, it displayed a number of poems on mental disturbance. All the poems were formatted as posters, many enlarged – some to A2 size, a few to A0. A local photographer, Alan Thunhurst, took and then edited the vast majority of the pictures.
We've almost arrived at the pictures. I have taken a while to find and explore the various platforms one can use. This below is ok but I have not found a way to enlarge the pictures here. There is a Facebook option and that does give you that flexibility. But you have to be on Facebook first. Here : https://www.facebook.com/profile.php?id=100009086896863&sk=media_set&set=a.2271411376505070&type=3
Google Photos provides another gallery setting and that too allows you to progress through the photos, enlarging as you go, if you choose : Here : https://photos.app.goo.gl/ajwMWSykbYYQxeSk7