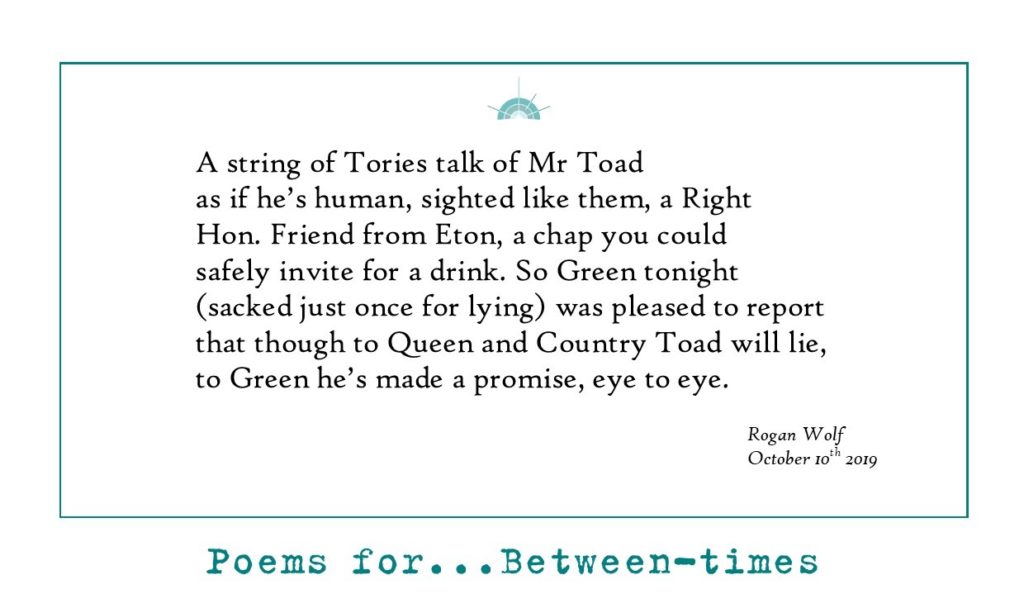 This latest stanza was written after news came though yesterday evening that Damian Green MP had spoken with Mr Toad MP, Prime Minister, "eye to eye" and been reassured by the Toad's word on it. But Mr Toad does not have a word. Does Mr Green ?
See the link to the relevant article here. 
In case anyone needs reminding, Damian Green was demoted by Theresa May at some point, following a bit of fuss about pornography being discovered on his computer at work. It seems that the main reason he was punished in this way, however, was because he lied to the investigators about it, thereby breaking the Ministerial Code.
Thus, it's fair to say that Damian Green has been sacked once for lying. And on public record is the fact that Johnson has been sacked twice. He has not yet been sacked for all the other times.
Interesting though, that someone who finds it all too possible to lie on his or her own behalf, still finds it important to be able to trust the word of others, whoever they may be, however serially duplicitous.