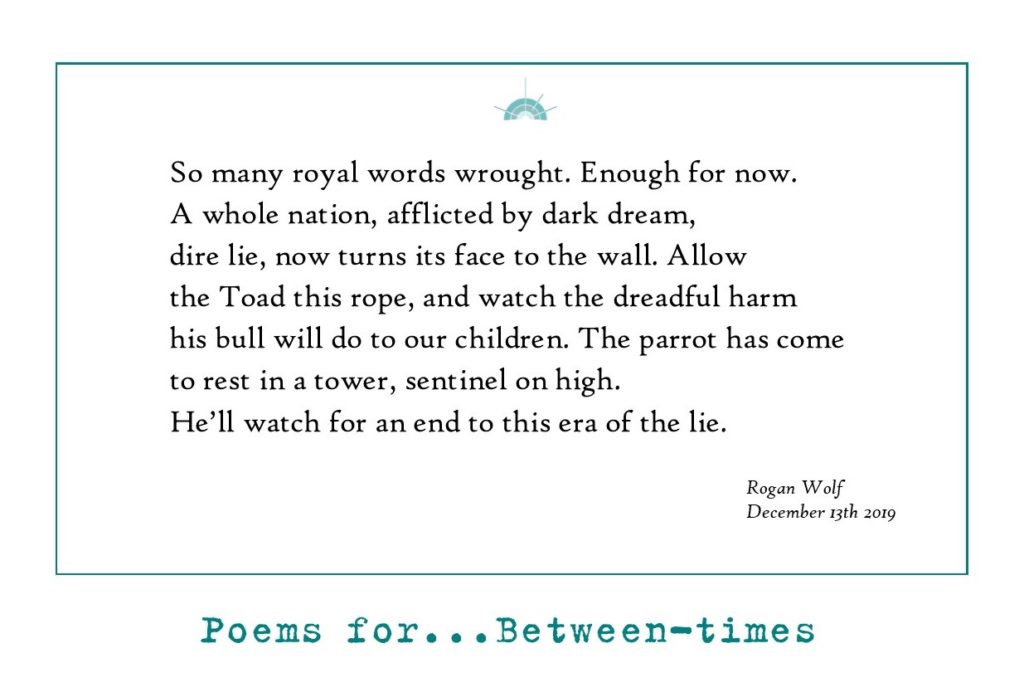 This stanza was written on the day after Mr Johnson's election victory on December 12th, 2019. It will be the last stanza of "Parrot Addenda," rounding off this series of 164 stanzas. It does not mean the Brexit story is over, of course. There's plenty more to come. It just means that the situation is suddenly very different. The tension and doubts and possibilities that have existed since the 2016 referendum and Cameron's resignation, are no longer present. And this Parrot's way of telling the story has nothing more to add.
I believe that, amongst much else, the story so far has been a win and reward for the Lie of which, of course, Johnson is a shameless, constant and largely unpunished practitioner. His election victory rewards him for his lies and is a portrait of this nation's disarray and perhaps its despair. The Lie is theft. It steals our language from us, it replaces clean air with foul. We are reliant on words to connect us to the truth and to the truth of each other. The Lie now running riot, led from Number Ten Downing Street, therefore spells ruin for our community.and for our democracy as presently configured and constituted.
And it leaves the parrot with nothing further to say, no medium of truth to say it in. And he has been tiring of late, flying above the flood. There is no point flying on and on, even if it were possible.
The tower he has found is the Tyndale Monument, an inspiration and sentry post for English honour and clean speaking, overlooking the Severn Estuary. At the top of it is a kind of cage.
The parrot will feel at home there, and in the best of company, but always on high alert for a time when words come clean again.