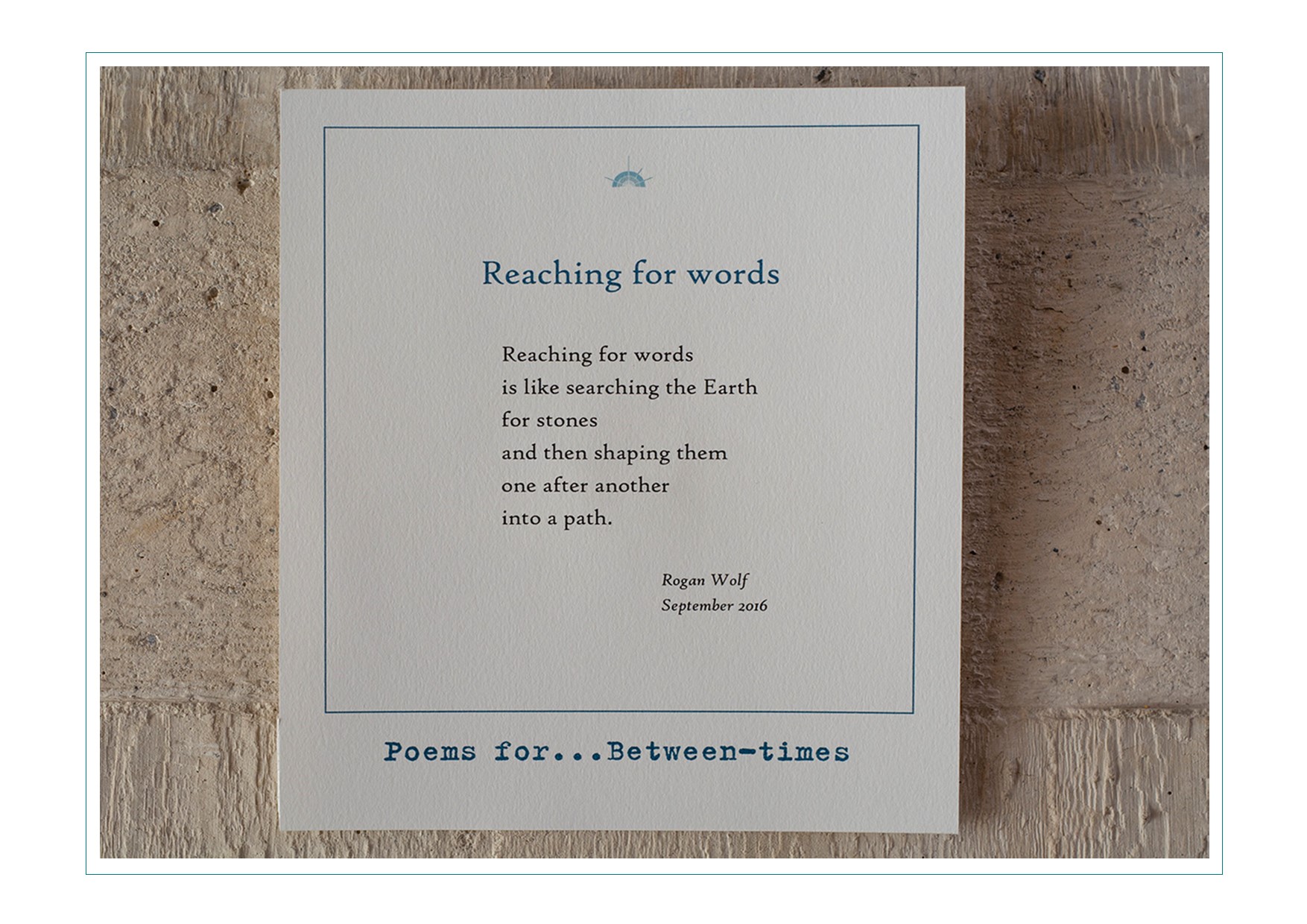 I never stop yearning for good poetry to reach past its traditional catchment areas – those shelves in the bookshop marked "Poetry," the university literature department, the dedicated arts festival, the shy, solitary and possibly eccentric brain – and find a valid place for itself in the public square, the waiting room where we all have to sit at some point and take stock, the moment of true contact in a furious crowd, in these perpetually tumultuous times.
But do I really mean that ? Would I be content if it really happened ? If life itself became a kind of permanent arts festival ? Is that what I mean ?
I suspect I have made an image of the whole business. I think what I really mean is that there should be more truth about the place, more emotional honesty, more honesty and goodness and fullness of word, more wholeness of being. And how could anyone disagree with that ?
And, rightly or wrongly, I see poetry as offering those things.
I yearn for language to cease being just a sales technique, a cloaking mechanism, a means of control, a contrivance in the service of Me and Mine and the Lie ; to cease being used as an abuse and avoidance of the Truth when we need it to be a passage to, and serving of, the Truth ; to cease being used as a tool to work on people, when it is there for us as a reaching out to our neighbours, open-handed.
But can poetry really supply all this healing Good ? Certainly not of itself. If you put a few words together and call that a "poem," does it automatically become some kind of benevolent or even therapeutic magic spell ?
Of course not. But the fact is that, from time to time, I do meet words that ring in my mind and spirit, by virtue of some kind of truth I recognise in them, and/or they recognise in me, and there is some kind of music about them which seems part of their truth, as if in and through their truth, they have found a music which author and I can both dance to.
And then there's a funeral and it's clear that the person who has died was sincerely loved by those who attend. For there is wordless grief running through and hanging over everyone. And a need for adequate words. And the adequate poet is called on at that point, speaking from the same love. And the poet, from that place of genuineness of feeling, offers the words that are needed and can be shared by the community, giving due honour to the departed, to the angel and mystery of death and to the grief of those who remain. And suddenly the poet and the poet's words have become essential, ministering to the needs of the moment, everyone's need.
Therefore, adequate, good-enough poetry can sometimes be an answer to a simple and essential human need, and is not merely some rarified extra, or ego performance. (And surely not to be wheeled out only in times of loss ?)
A few months ago, I curated an exhibition of some poems from this project I run called "Poems for…the wall."  The exhibition was held in Clifton Cathedral, a major Roman Catholic church designed and constructed in the late 1960's and early 70's in the architectural style of that time, sometimes called "brutalist." I find it a remarkable building, an aid in itself to reverence and wonder, and in my opinion the poems looked lovely there.
In fact, you might almost say that they found their true tongues there. The "brutalist" aspect of the building creates shapes and surroundings of a sort of raw essentialness. And in a way I cannot explain, the wood grain inscribed into the concrete surfaces as they dried, adds to the essentialness – a delicacy married to the massive, an organic complexity bound into the constructed simple.
And in that setting, the poetry gave of its richness of language in a way that I don't think I have ever experienced before. On seeing the exhibition for the first time, someone exclaimed that it was like seeing a present-day Book of Psalms open and revealed here, in a concerted cry of the nations.
Some good photographs were taken of the exhibition, but it has taken me several months since then to find a way to project them adequately online. Now at last I have and, thanks to Google Photos, here is the link.