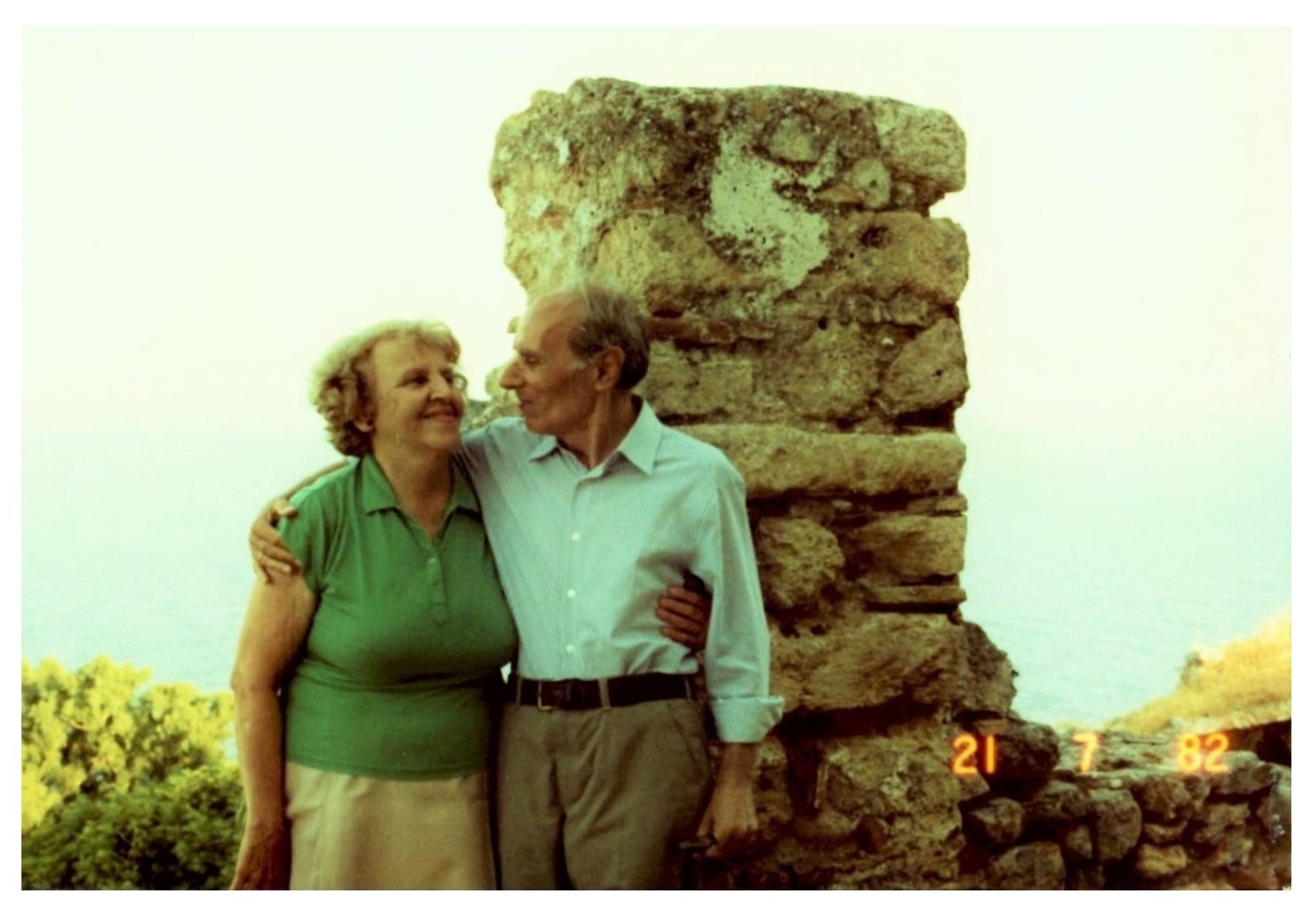 "He first deceased : she for a little tried
To live without him, liked it not, and died."
There they stand,
those old antagonists,
posing at the head of the high-walled city,
that vast coronet of ruin.
Above them, the daily familiar
blue glare of God's regard,
far beneath them,
their radiant Aegean.
Arm in arm they stand
and eye to eye,
he fragile as ever
almost the hanging vine,
she the lioness
fine head pulled back
as if thinking : "You old bugger,
I've yielded good ground to you."
Now, two thousand miles away,
exiled, here she lies. Dying,
she had no thought to spare
for that old bugger whose death killed her.
As he now feeds an Athenian silence,
she must now fade into London's air.
Her ashes yearn to join him there
in the dry red earth, under the orange trees.
For ten months she tried
waking without him here, this side.
She didn't like it.
In haste, she died.
Rogan Wolf, January 1993
Reference Notes
The epitaph beneath the photograph of the couple is called "Upon the Death of Sir Albertus Morton's Wife" and was written by Sir Henry Wotton, 1568-1639. The name of "Sir Albertus Morton's wife" was Elizabeth Aspley. Sir Albert was secretary to King James 1st of England and nephew to Sir Henry Wotton.
The couple in the photograph are my late parents-in-law. They were Greek and can be seen here posing on the "Castro" of Monemvassia, once a major Byzantine port south of Mystras in the Peloponnese.
Medieval Monemvassia was built on a great rock with sheer cliffs, connected to the mainland only by a slender causeway. The city was essentially divided into two, one part high up along the top of the rock, the other along the rock's base, facing out to sea, protected by walls.