I haven't mentioned this project here for a while.
I started it over twenty years ago, now. Both of the following two statements are true : it remains what it has always been – very much a one-man-band ; but also, and from the beginning, it has received help and support from a wide range of individuals, each excited by the idea of helping poetry reach beyond its usual range – the specialist book shelf, the preserve of the few. I submit that poetry belongs where all of us go and any life uninformed by decent poetry is an impoverished life. Truth is the truer for decent poetry. In fact, we need it to help us properly to see and appreciate the truth.
I am going to bring together a few links here. The first one is also displayed onscreen here, just below :
1/
A recent information sheet on the project as a whole.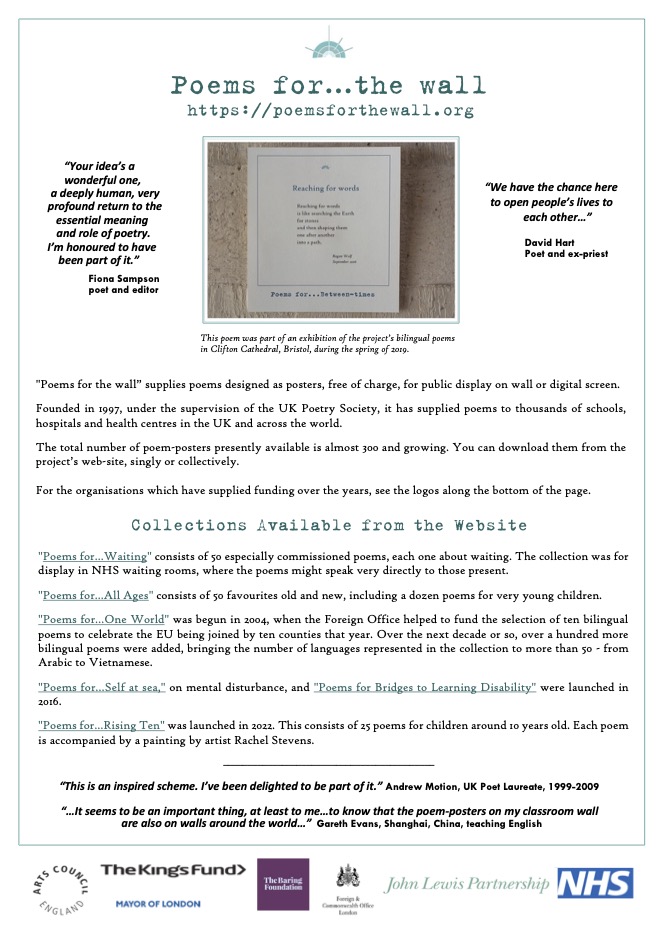 2/
Pictures of an exhibition of the bilingual poems held in Clifton Cathedral about three years ago.
3/
Pictures of an exhibition (in a quiet village church) of the project's latest collection. This one is for children and is called "Poems for Rising Ten." It is rather beautifully illustrated, thanks to the artist Rachel Stevens. Rachel made her work available, free of charge.
More and more, I am thinking that in each case, the combination of the text and the art work come to more than just illustrated words. They make a statement together that is more than each.
I am also wondering now to what extent this is, after all, just a children's collection. Certainly, it was chosen for them and I hope will find its way to plenty of them. Yet the exhibition proved quite popular with all ages, in that ancient place of assembly, where people have worshipped through the centuries. I am told a few tears were shed at different times, in response to this poem or that, and they weren't children's tears.