I run a project called Poems for the Wall.  Its website makes a wide selection of poems available online, free of charge, for display in public space such as waiting rooms, libraries and schools. The poems are formatted as posters and can be displayed digitally, or downloaded and printed out. Many of them are bilingual and they represent the work of poets known nationally and internationally.
For a good many years, while its collections were being put together, Poems for the Wall received funding from a range of sources, including the UK Arts Council, the NHS and the John Lewis Partnership. A small charity which I had founded called Hyphen-21 took managerial responsibility for that funding while it was still called for and forthcoming. Hyphen-21′s Trustees both supervised and supported me in the work, along with a number of consultants.
The title Hyphen-21 is a reference to a book by Martin Buber, called I and Thou. That book compares and explores two essential forms of relating : on the one hand 'I – It' ; on the other 'I – Thou.' What happens along the connecting hyphen between Self and Other ?  What support can be offered to those who seek to keep their footing on the more precarious hyphen between I and Thou ? Those are awkward questions and answers to them may not be reassuring. And Hyphen-21 has turned out to be more of a metaphor than a doer and shaker. But, insofar as poetry can reach and connect empathically with people, then the charity's management of, and association with, Poems for the wall exemplifies its fundamental aims.
I am a poet myself and will come back to that subject in the next paragraph. But first, I should say that I have spent most of my adult life employed as a qualified social worker, running community centres in London for people with mental health problems and disabilities of one kind or another. As such, I was employed by a succession of Local Authorities, but eventually went free-lance and am now a pensioner. It can be said that, being now a pensioner, I have progressed from being poet 'part-time' to being poet 'full-time.' But I do not regret for one second my time as social worker. And anyway, in truth, there is no such thing as being a poet 'part-time.'
The question 'how to be a poet' is probably the central one of my life. Sometimes the poems themselves can suggest an answer, but not entirely and not for long. However, for the rest of this piece, I shall concentrate on some of the poems I've come up with, and what has happened to them, in case doing so can add something substantive to the picture.
A number of the poems can be found on the home page of this blog, down the right hand side. Scroll over the titles for very brief descriptions of each. Then click, if you're interested to read them. From time to time, other poems – more recent –  appear as posts here, and/or on my Facebook timeline. I like making booklets of some of them, brought together as a series. To hold the booklets together, I prefer needle and thread to stapler. Then I give the booklets to people I'm in touch with.
Home computer screen and/or needle and thread. The two options might seem contradictory. But what they have in common is 'free' and open-handed and different versions of 'personal' ; and each reflects my conviction that poetry somehow matters and therefore belongs beyond the specialist bookshelf or university curriculum. Let it be part of a more general conversation, contributing to the opening and joining of hands.
I shall mention a few poems in particular here. Partly, that is to give some idea of range and approach ; but partly also, to illustrate my interpretation of 'publication' as meaning something more basic than submitting work to a poetry publisher and then having it largely disappear between covers.
This is a longish poem written over 20 years ago as a kind of diary. It was composed at the request of a young woman dying of cancer, so that her very young sons would have a written record of what took place during this fraught and very early time in their lives – it would preserve for them their mother's words, her decisions, her actions, some idea of who she was. Later, her widower and I agreed that the poem might also belong more widely than that and I recited it a few times to social work and nursing trainees. Far more recently, I gave it to a friend who has just started training with an organisation called 'Soul Midwives.' In turn, she showed it to the founder and head of that organisation who – having read it – has expressed the wish that each of the 800 people who act as 'soul midwives' might have his/her own copy. 800 would be a bit much to hand-sew but, at the time of writing, I am preparing to deliver an initial few hundred of stapled versions ! By coincidence, perhaps following the Covid traumas experienced by so many individuals and families, there has recently been quite widespread discussion elsewhere about dying – the need to talk more openly about dying, the 'art' of – if possible – dying 'well,' or – at least – of supporting as attentively as possible someone who is dying. Following one such discussion on BBC radio, 'A Light Summer Dying' now also features online on the website of a project based in St Mary's University, Twickenham. Here is the link :  A Light Summer Dying – The Art of Dying Well
This is less a single poem than a succession of stanzas, each following a traditional rhyme scheme called 'Rhyme Royal'. The poet Geoffrey Chaucer introduced Rhyme Royal to English literature in the fourteenth century. It consists of seven 5-beat lines, rhyming ababbcc. More specifically, Parrott Addenda borrows quite closely from a rather wonderful satire written in rhyme royal by John Skelton, in the reign of Henry 8th. Skelton was attacking Cardinal Wolsey who, for quite a while, was head of both Church and State in England, a concentration of power which Skelton found dangerous and somehow unhinged. He made a Parrot the voice of his attack, not as a creature which just imitates, but as a (recently discovered) bird of paradise which could 'speak all languages aptly.' The parrot, cosseted in its cage, further becomes  –  at Skelton's hands  –  the heart imprisoned in,  but also protected by,  the rib- cage. The heart must have 'liberty to speak,'  but  –  with an unchecked monster abroad  –  does it dare ? Is it safe to come out with the truth ? Eventually, Skelton's parrot is persuaded to speak 'true and plain.' My own parrot in its cage had things to say about the UK's Brexit saga, as events unfolded. The saga begins with the Daily Poohs of D'acre and ends with the hoodlum Mr Toad, Lord of a moated Toad Hall, pied-piping, boostering and misleading his nation into Never-Never Land. I published the stanzas one by one on the blog, as each was written in response to this or that event, but then brought them together under a single heading, as a sort of nightmare archive.
Here is an example of one of the stanzas :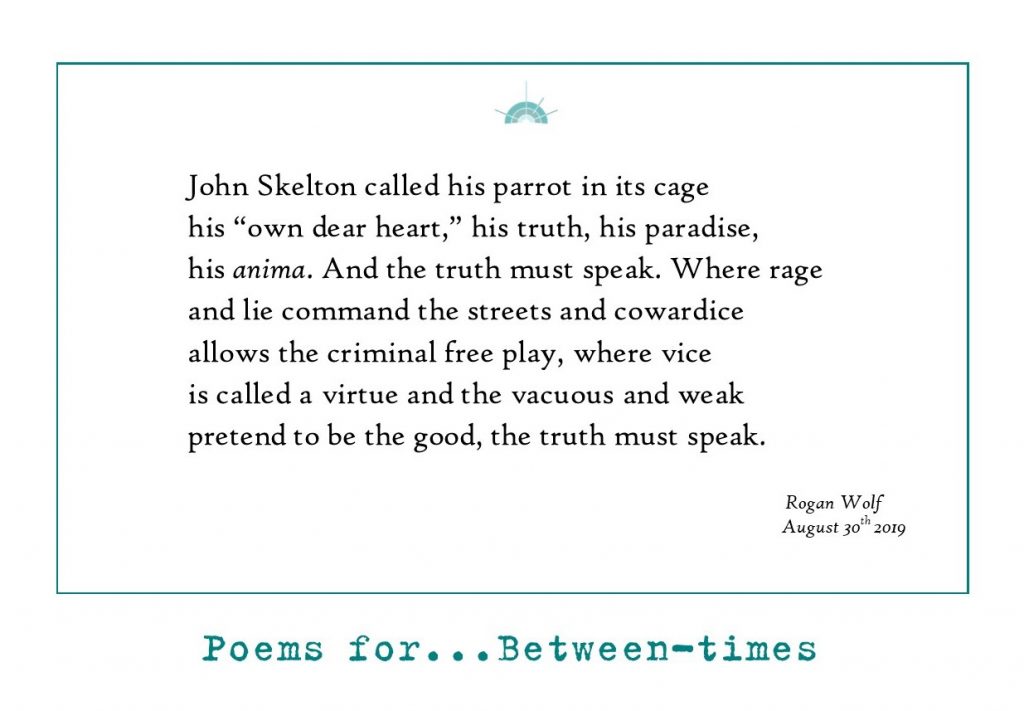 The original of this long poem was written in his native tongue by the Turkish poet Cahit Koytak. (In Turkish, his poem's title is Gazze Risalesi). He began the poem on the tenth day of the 2008-09 Israeli attack on Gaza which killed 1,400 Palestinians. His poem constitutes an extended lament on behalf of the Palestinians. He addresses himself to Yusuf, a fictional Palestinian boy. Then he turns to Joseph, a fictional Israeli young man. The poet grieves and condemns and beseeches, sounding like the father of both of them, sounding also rather like an Old Testament prophet, with his voice of passionate, timeless authority.
The poet Mevlut Ceylan was asked to translate the poem into English and he in turn asked me to translate his literal translation into mother-tongue English. In the process, I also consulted with Cahit Koytak and his family and obtained their permission for me to coin the English title, which is not a literal translation.
The poem was published as a bi-lingual book by the Yunus Emre Institute, which is the Turkish equivalent of the UK Arts Council. The book is of good quality and design and I have been sent a handful of complimentary copies. However, I simply do not know what has happened to that book, or how widely it has been distributed, or read. Obviously I have asked, but have not received answers. I have to suspect that some political winds have turned.
I have sent some excerpts of the poem in English to 'The Electronic Intifada'- which published them online in 2015.
Elsewhere on the home page of this site, is a link to two youtube recordings of the poem. Each shares the same succession of pictures of children in Gaza, put together by members of Cahit's family. One recording has Cahit Koytak reciting the first part of his poem in Turkish ; the other has me reciting the English version.
In addition, here is the full text of the English version set out on A4.
There are a number of distinct collections available on the Poems for the Wall website. One is called Poems for Self at Sea and this seeks to address the human experience often described as 'mental health' (even though what is often being described by that phrase is mental ill-health) or 'mental health issues'. The poems in this collection come from various sources, gleaned mostly from my own years as a social worker in the field.
In 2016, University College London (UCL) launched its Guidance on Mental Health for Managers policy. As part of, and back-up to, that launch, I was invited to contribute a recitation to UCL staff of poems I had written on the subject. I also delivered to them the Self at Sea collection. Four of those poems now appear on the UCL website, including one of my own.
The Travels of the Last Emperor
My late wife Sophia, mother of my three sons, was Greek. She died in 2012, twenty years after being diagnosed with breast cancer. So, following and despite the diagnosis, she was able to see her sons into adulthood. On the other hand, the dread of the illness and what it meant, was like a shadow that clung to her throughout those two decades.
Her Greekness was an essential part of her, of course, even though she aspired – from an early age – to live in the UK and eventually managed to. While her relationship with her native country remained ambivalent, she naturally stayed in touch with it and of course introduced me to it and I promptly fell almost as much in love with the country as with this person who had rejected it. Also, in early adulthood, still living in Athens, she had discovered a place called Monemvassia, on the southern coast of the Peloponnese. She introduced me to it  and afterwards we went there almost every time we visited Greece. It became much more than a place for a holiday. It was more like a heart's-home, a place of pilgrimage. Inevitably, I became interested in Greek history and especially in the Byzantine Empire, which was a continuation of the Roman Empire in its eastern aspect (ie the history of Greece does not begin and end with Ancient Greece !). Then, to my excitement, I learnt that the last Emperor of Byzantium had actually passed through the medieval port of Monemvassia, on his way to reign in and defend the capital city of Constantinople. The city fell just a few years later and the emperor was killed on the walls.
Following my discovery, I wrote this poem over several years, with the figure of the last emperor becoming increasingly mythical and contemporary, as the poem progressed. It has been recited in public several times, including in the Yunus Emre Centre in London.